Looking for a quick, easy and almost-free Boho home, office or nursery decor? Why not try a little Modern Crochet with this Geometric Granny Triangle Wall Hanging or Mobile!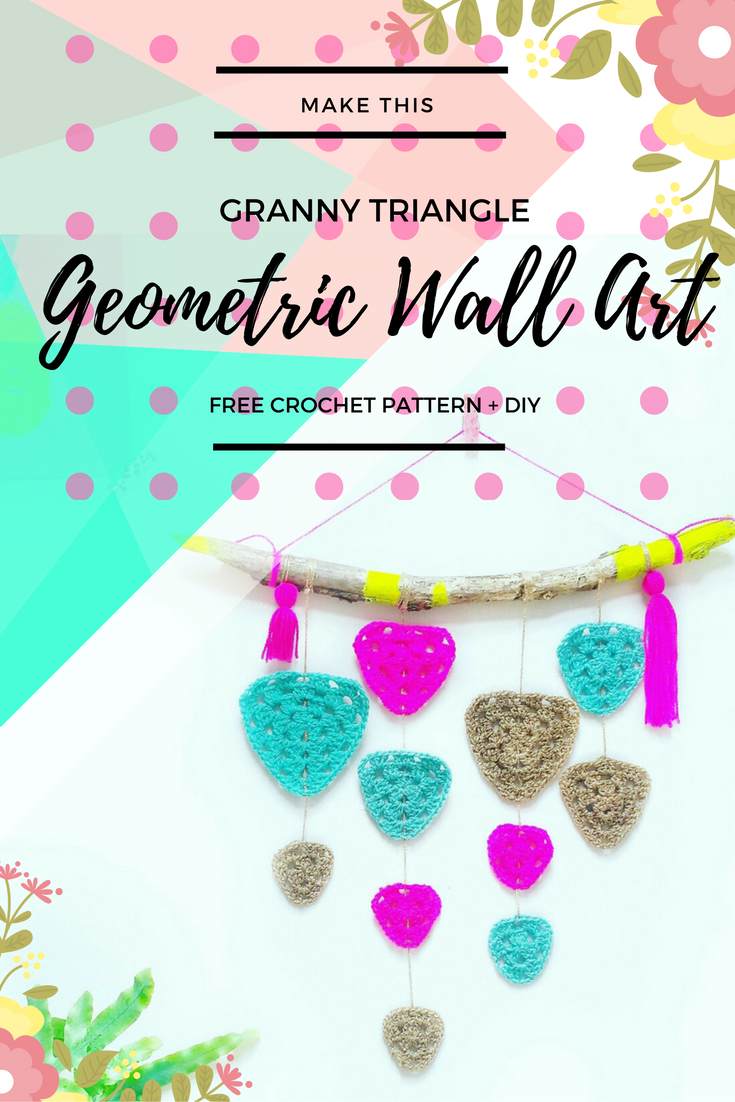 So before I say any more…  How AMAZING is Clare's new-look blog and name? Totally loving it! And am so delighted that she asked me to stay on as a monthly contributor!
This month's project is so quick and so easy to make…
I LOVE making wall hangings with yarn… they are super fun, look really earthy and chic and can totally transform a wall space.
This fun project uses crocheted Granny Triangles to create a fun geometric wall hanging for any of your living spaces!!
Let's get started!
You will need:


DK yarn – I used Stylecraft Special DK in Aspen and Fiesta and this pretty metallic gold synthetic silk yarn from B and M.
4.5 mm crochet hook
A small branch or large twig 
Scissors
Yarn needle 
Neon Spray Paint and Masking Tape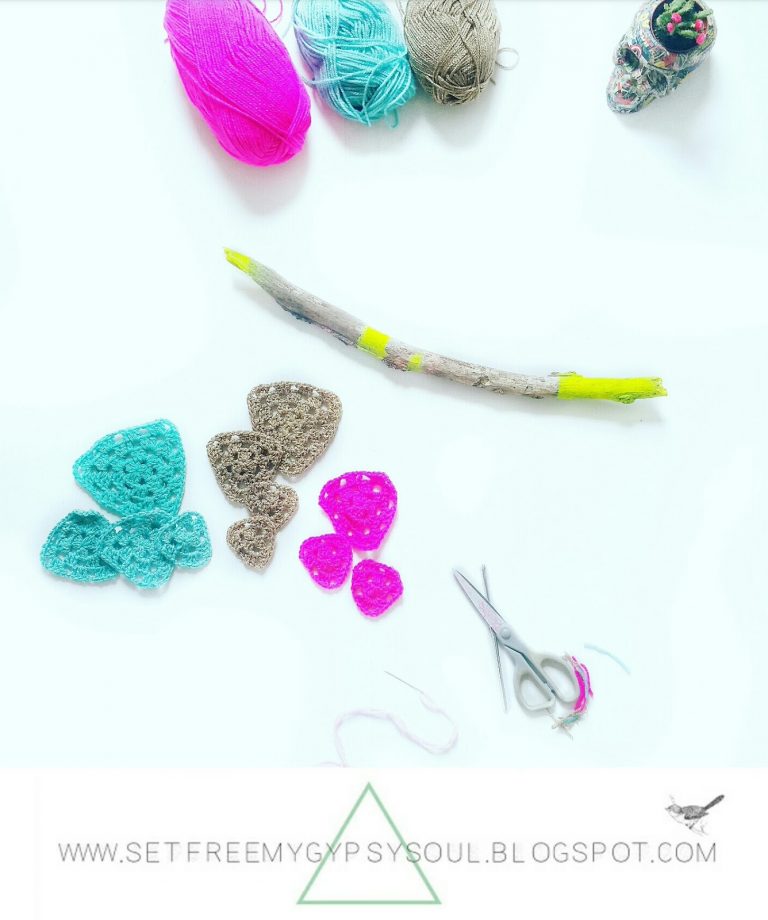 Step 1: Before any crocheting, use your Neon Spray paint to make some cute colour pops on your branch. Mask off the areas you do not want painted and then just spray away! Always do outside if possible as it's messy and stinky!
Set aside to dry and pick up your crochet hook!
Step 2: So we're going to need a selection of different sized Granny Triangles… to make the Granny Triangle is just like making a Granny Square but with 3 sets of clusters instead of 4.
How to make the Granny Triangle step by step:
Round One: Start with a magic loop and chain 3 as your 1st dc (UK tc) then make 2 dc (UK tc) 3 treble crochet into the loop and chain 3
Repeat twice more. Tighten your loop and join with slip stitch.
Round Two: Chain 5 (this acts as your first dc -UK tc- plus a ch 2). Make 3 dc (UK tc) into the next space.
Chain 3 and follow with another 3 dc (UK tc) into the same space. There's your first corner!
Chain 2 and make 3 dc (UK tc), 3 ch, and another 3 dc (UK tc) into the same chain space. Second corner made.
Chain 2 and make 3 dc (UK tc), 3 ch and 2 more dc (UK tc). Join with slip stitch.
Round Three: Chain 5 then make 2 dc (UK tc) and chain 2
**Then 3 dc (UK tc), 3 ch, and 3 more dc (UK tc) into the same chain space to make a corner.
Chain 2 and make 3 dc (UK tc) followed by another 2 ch. Repeat ** until closing with slip stitch.
Round Four: Repeat the pattern, each time making 3 dc (UK tc), 3 ch and 3 dc (UK tc) into each corner. Close with slip stitch and weave in your ends.
Make in Blue-Green – 1x 4 rounds , 2x 3 rounds, 1x 2 rounds
Make in Pink – 1x 3 rounds, 2x 2 rounds
Make in Gold – 1x 4 rounds, 1x 3 rounds, 2x 2 rounds
Step 3: Arrange your triangles in a way that makes you happy…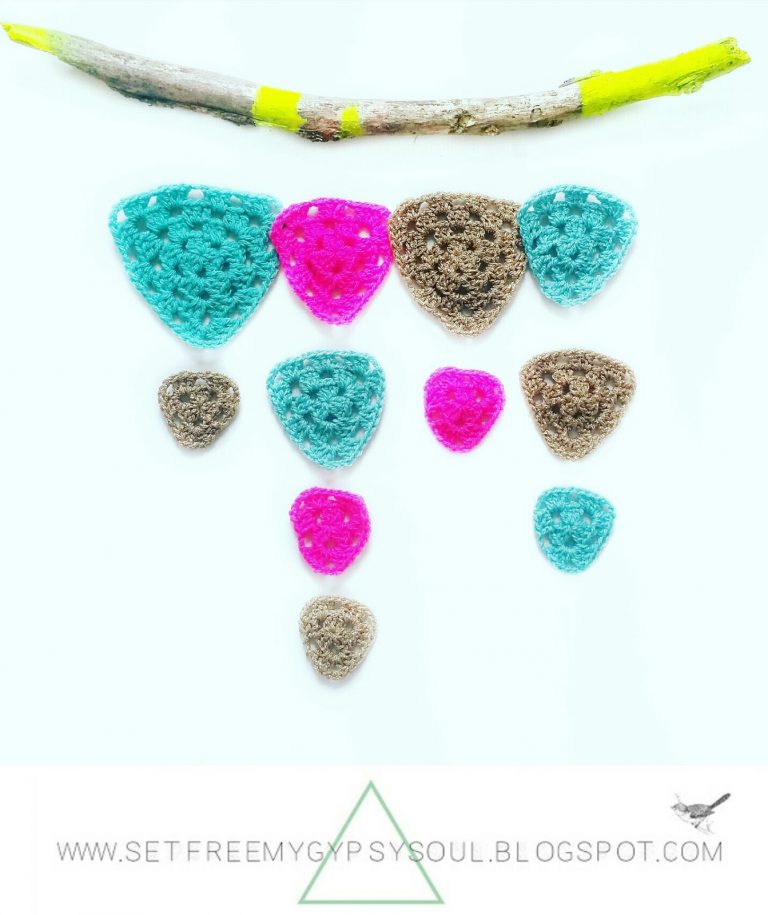 Step 4: with your yarn needle and approx. 60cm of gold thread, thread each set of Granny Triangles straight through the middle like popcorn at Halloween and Christmas 😄💕
When you have a set threaded, wrap your remaining thread around the wood until you have a small tail left,  knot twice and tuck in ends.
Repeat for each drop of Granny Triangles.
Step 5: to make the hanger, take approx 1m of yarn in whichever colour is your favourite, and wrap around one end of your branch a few times and knot twice to secure.
Take the remaining end of the yarn length and repeat on the opposite side.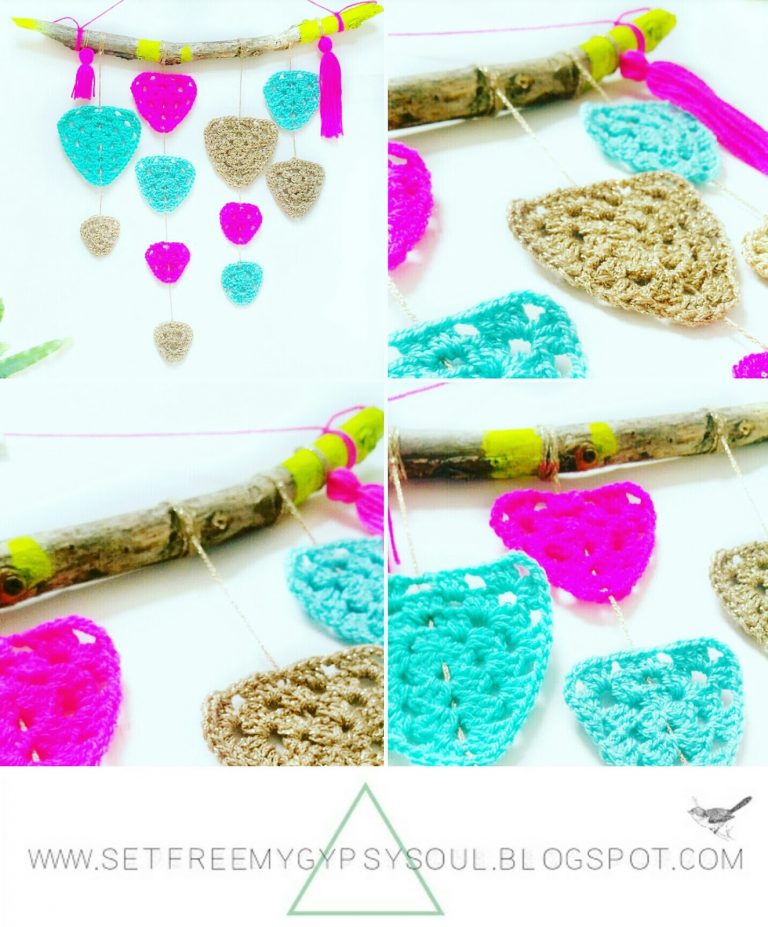 Step 7: Now, hang on the wall in your living room, office or nursery/kids room and get all the good crafting feels!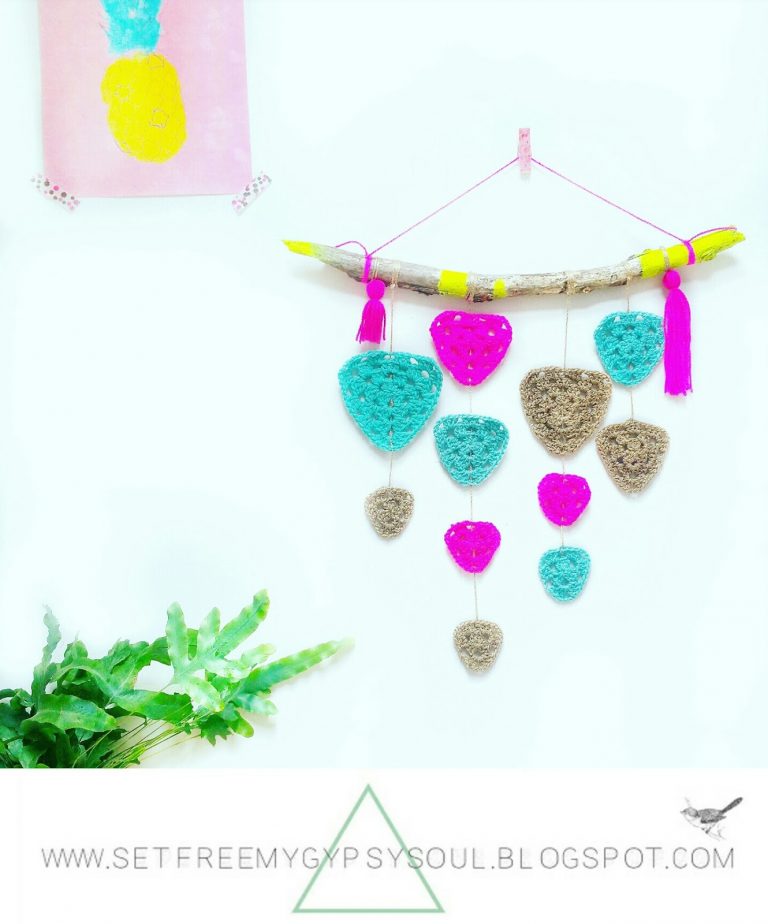 I really hope you enjoyed this fun Granny Triangle Geometric home decor project and pattern! 😁 💖💙💖
I LOVE seeing and being inspired by other fibre artists awesome work!
I have also started a new hashtag on Instagram.. 
#SFMGSswoon
 to beat the new selective Insta feed and also to showcase bright, colourful, bohemian craft every week! Join the group now by tagging your work with
#SFMGSswoon
!
If you enjoyed this pattern… be sure to tell all your fellow #crochetaddicts using the platform of your choice just down below or by tapping those 3 cute little dots at the top of your mobile browser. 💖
Have a great end to the summer awesome fibre-artists and I will catch up with you next month!
Peace, Love and Yarn,
Miki xoxo